Internet Explorer Security Hole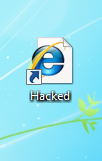 A new security hole has been discovered by hackers on our latest and newest Internet Explorer; the one that comes preinstalled on your pc. For more information,
https://technet.microsoft.com/library/security/2963983
Two ways to protect your self while Microsoft works in a security fix:
1. Use another browser,
Google Chrome, or Mozilla Firefox
2. Disable flash.
Here is how:
On internet explorer, click the tools menu,
if no menu is available, click the Alt key, located on the side of the space key on the keyboard.
In the tools menu, select Manage Add-ons
Then select the one that says Shockwave Flash Object
Then at the bottom right select Disable, this will disable any flash programs or attempts to hack your Internet Explorer.