Yesterday I had a friend asked me to download some music on his iPod classic. This iPod looks like its been through difficult times. It has signs that it was dropped at least once, a while ago.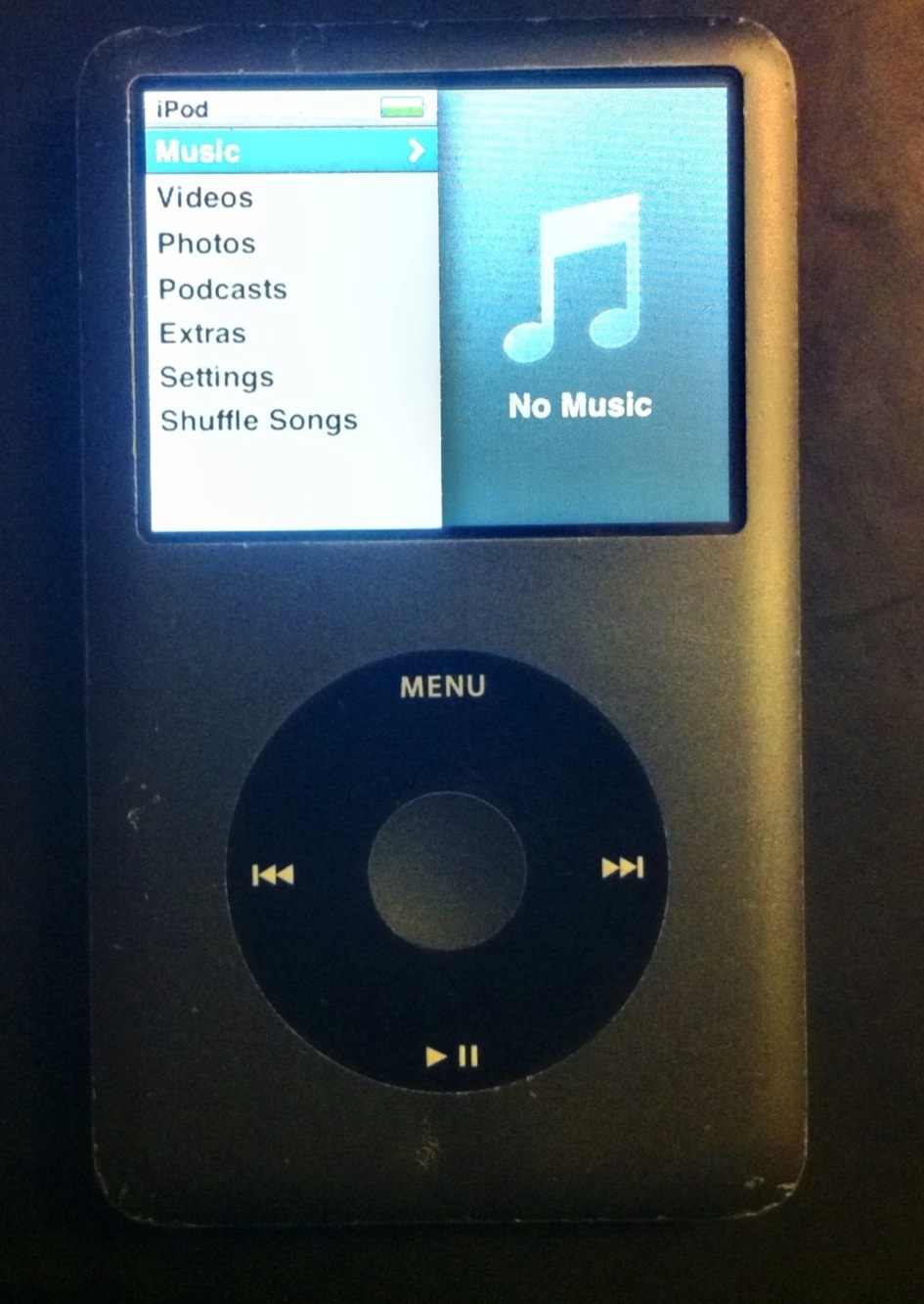 I went and connected the iPod to my computer. The moment I connected it to my computer, windows went online to look for drivers for it. After the installation, my antivirus program came up and said that it had detected a virus on this iPod. from that moment on, I realized that this was going to be a little more difficult than just a simple copy and paste.
iTunes said that this iPod belonged to another user. After i restored it, it appeared on iTunes again. I continued with the setup. I went and synced all my music to it. After the sync started, iTunes give me an error saying that:
"iTunes was unable to sync, because the device could not be found!"
I unplugged it from the computer, because it was not appearing on iTunes .
I plugged it back again, and I was able to sync one album. After that I went and tried to sync my entire library of music, about 6.5 Gigs. After it was finished with the sync, I ejected it from iTunes.
I went and physically unplugged it from the USB port. I went and looked to play some songs on it. For some reason, it said that there was:
"no music"
After doing a restore and coping one album again, I was able to see the album there. But after I copied my entire library, the music disappeared.
I had never encounter a issue like this before!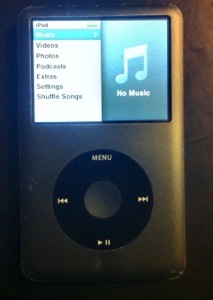 After doing some research, I found out how to access the iPod Diagnostics.
thanks to this post,
To access the iPod diagnostics, do a manual reset:
iPod reset: hold the center and the menu buttons.
Now to access the iPod Diagnostics:
iPod Diagnostics Mode: after the screen goes blank before the apple appears, hold the center and the left buttons before the iPod starts up. This will boot up the iPod Diagnostics.
A screen similar to this, will appear: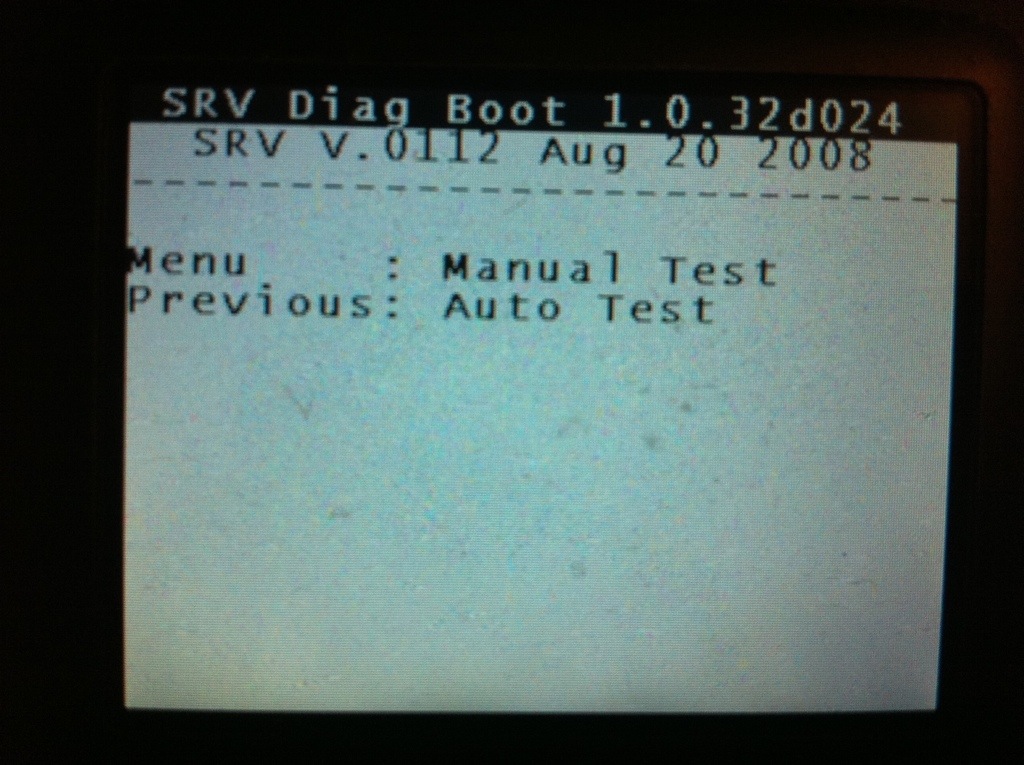 After that, I selected Manual Test by pressing Menu then selected IO by pressing the center and the left and right buttons.
Then selected HardDrive and then selected HDSMARTData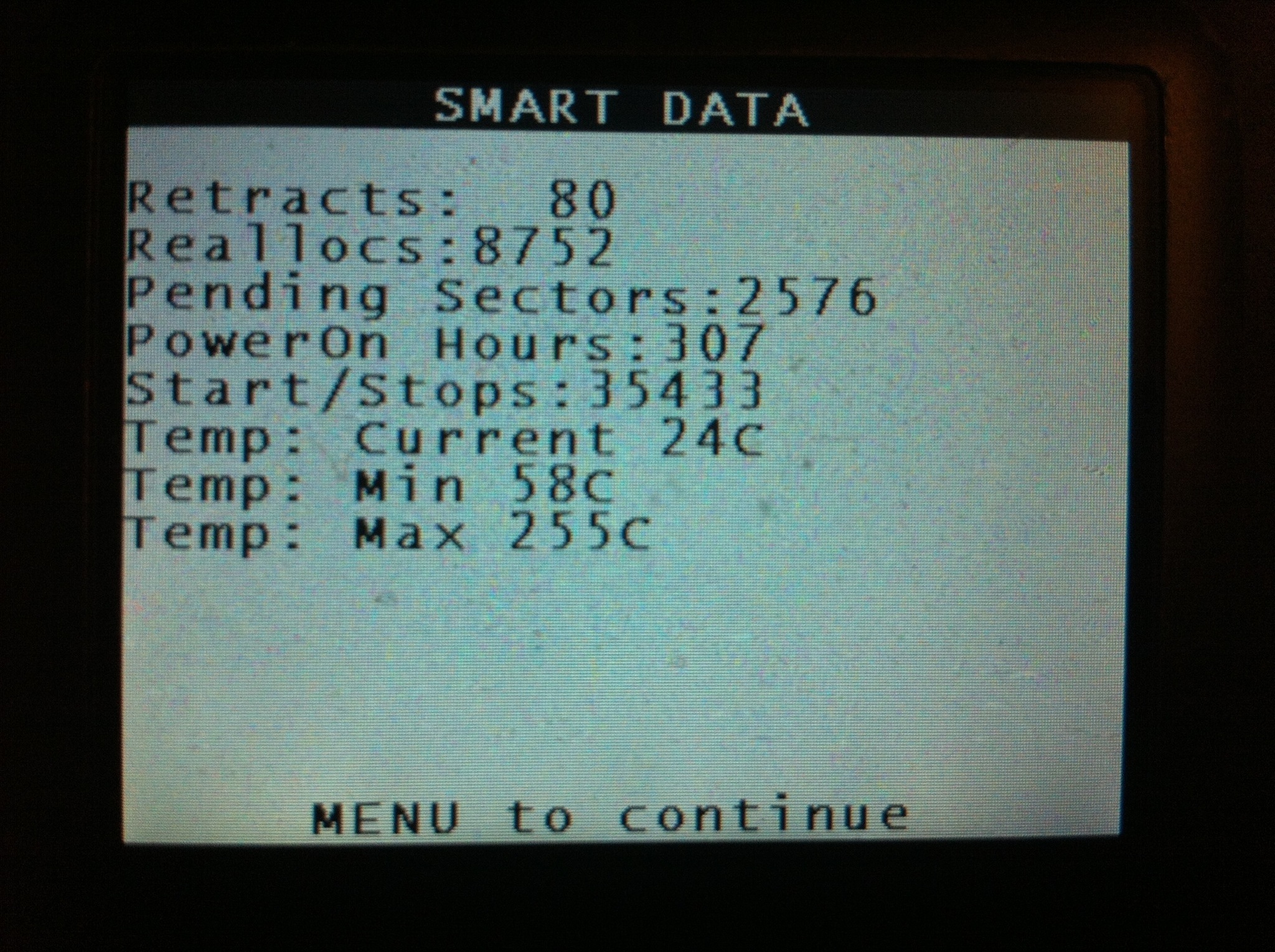 With my previous experience as a computer technician, I came to realized that this are the results of a chkdsk /f for those with command line background.
As far as I found out, this drive automatically does a check disk on the go. Any bad sector that it finds, get relocated to another area of the disk.
Knowing this information, I have come to believe that this Hard Drive has its days counted! With so many reallocations and so many pending, it's not good news. But with a regular 120Gb hard drive housing 234,375,000 sectors, there's still hope.
After this I went and rebooted the iPod, and went back to the no music.
After that I connected it to the computer, after it came up in iTunes, I did a Restore iPod.
After the restore, it appeared on iTunes.
Then went and started adding between 10 to 25 albums at every sync session.
After the sync was completed, I left the iPod alone for about an hour.
After this I went through the albums, and all the songs just trying to give a little work to the hard drive, and maybe find more bad sectors.
After doing this 3 times I went back to the iPod Diagnostics to see what was the effect.
This is what I got: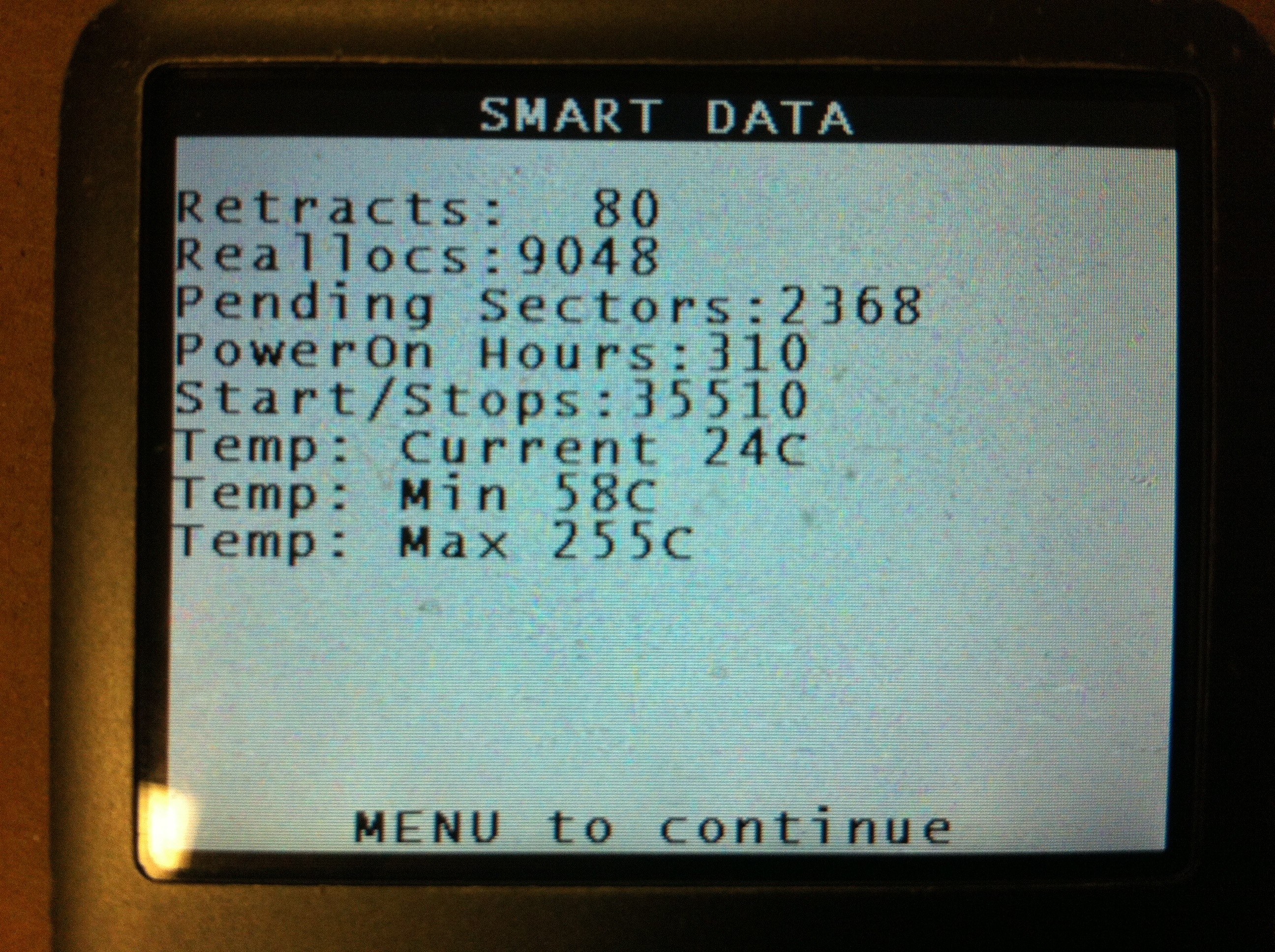 The iPod seems to be fixing it self. After adding more songs, the unthinkable happened the no music appears.
After this disappointment I plugged it in and went to Computer Management and right clicked the drive and selected Format from the menu.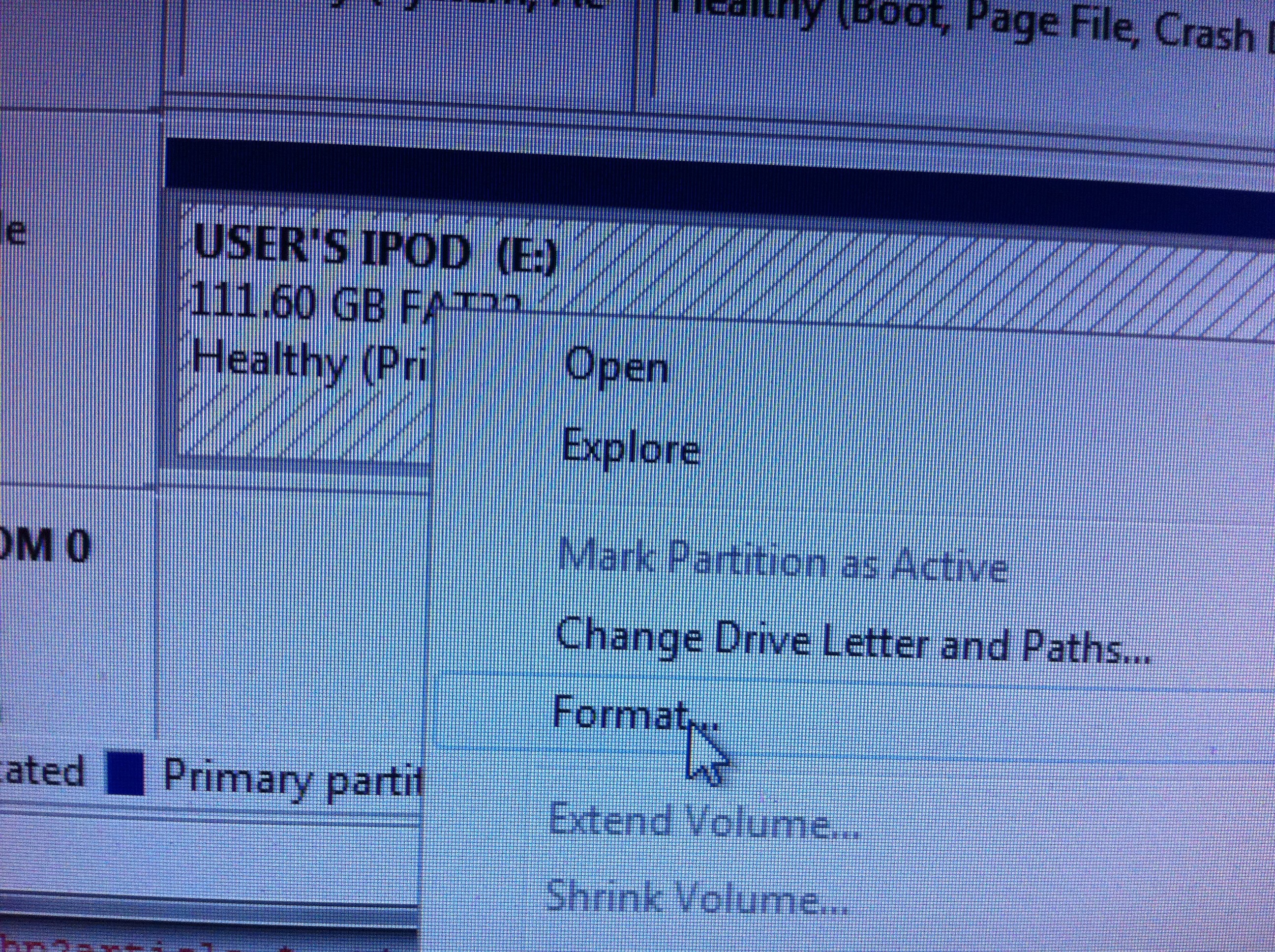 Unchecked the Perform a quick format check box and went for it!
After about two hours, the format was complete.
After the format was done, I was curious to see what the SMART results were, here they are: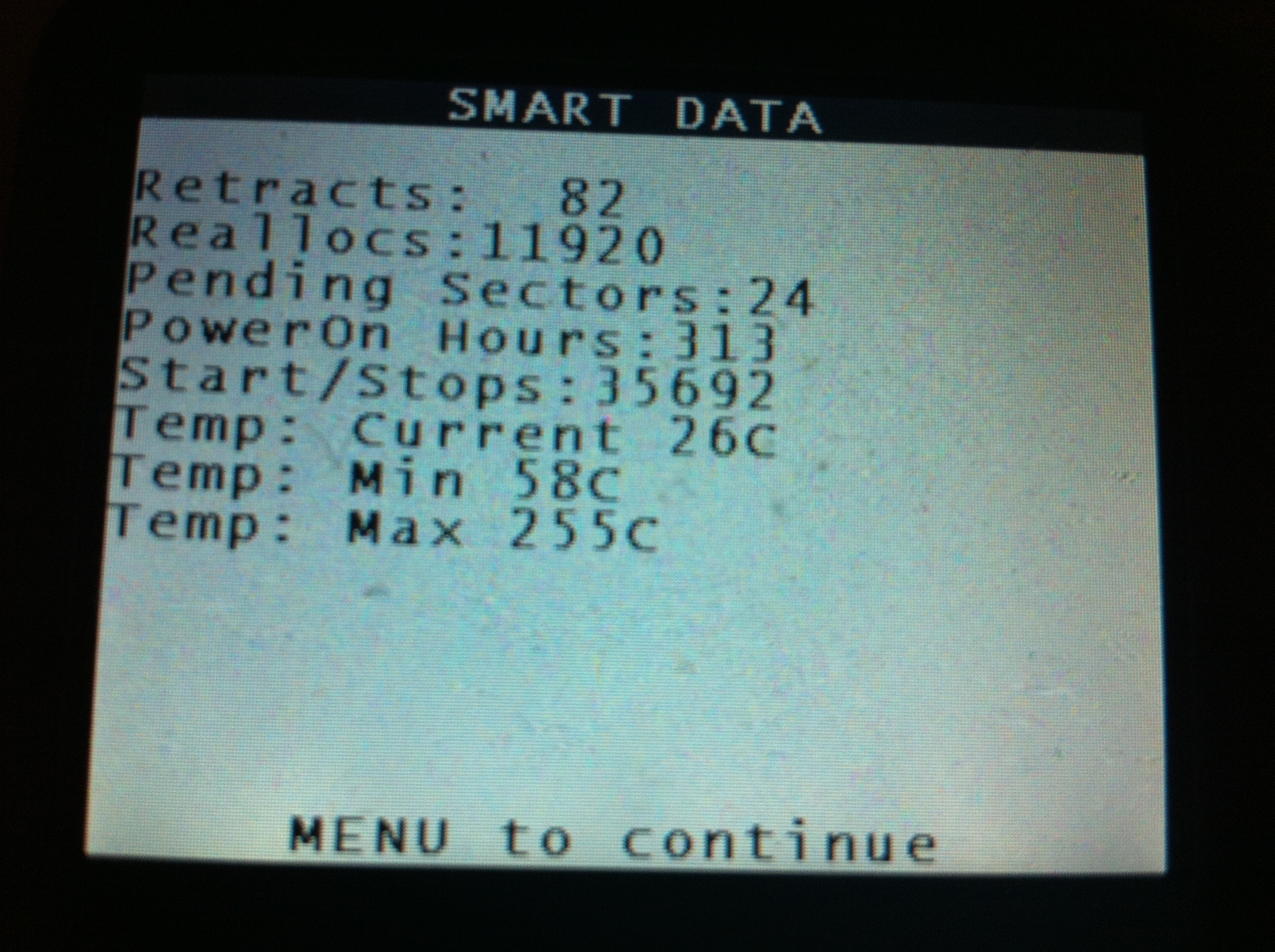 I was really pleased with windows and the format.
Now all I have to do is to add songs, just to be safe, ill add them 200 songs at the time.
After adding 490 songs, the iPod is still functioning! Awesome!!!!
After i have it running for about 1 hour, I will add another 400 to see how it does!
I ended up adding 410 more songs, after the reboot, again the no music.
I went to the Diagnostics mode, to see what the numbers where. So far the pending sectors increased from 24, to 152. So something is going on,
After the reboot, I was able to see all my music!!!! I can see the bad sectors are being fixed??? Maybe.
After trying to add more music, the no music appeared again. I decided one thing, to sync only 500 songs.
After all this trouble, I was only able to sync 480 songs to this iPod. The hard drive on this iPod is just about to die. I think that some music, is better than none at all.